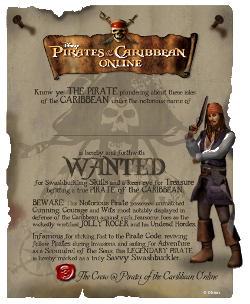 The Letter of Infamy was the last promotional item that was released by Disney. It was a wanted poster that you can print out and display forever so all your mates can see how infamous your pirate was.
Game Notes:
The Letter of Infamy is very similar to the Jolly Roger Wanted Poster that was released at the launch of the game.
You can download the PDF here.
Ad blocker interference detected!
Wikia is a free-to-use site that makes money from advertising. We have a modified experience for viewers using ad blockers

Wikia is not accessible if you've made further modifications. Remove the custom ad blocker rule(s) and the page will load as expected.