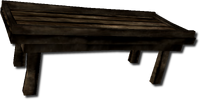 Liar's Dice was a Mini Game that was being worked on as a possible future update for Pirates of the Caribbean Online. For unknown reasons the update was scrapped, most likely due to the plans of moving Disney Interactive to a more mobile focused business.

The only information on the proposed mini-game is that there were sound files for shaking and rolling the dice and a model for a unique table that the game was going to be played on. It is assumed that the game would have been played similarly to how it was depicted in Pirates of the Caribbean: Dead Man's Chest.
External Links
For more detailed information, please review these sources:
Ad blocker interference detected!
Wikia is a free-to-use site that makes money from advertising. We have a modified experience for viewers using ad blockers

Wikia is not accessible if you've made further modifications. Remove the custom ad blocker rule(s) and the page will load as expected.