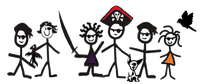 This page is a guide: Guides are essays that cover a specific topic in detail, in order to aid players to better grasp the topic. Guides may help you gain a better understanding of the game, but they are often written by a single editor, and the wiki offers no guarantee of their validity. Guides can be useful, but keep in mind that they may have a subjective point of view, or describe a specific approach to a subject which may not be the only solution.
To view all the guides on the wiki, please visit Category:Guides.
| | | |
| --- | --- | --- |
| | THIS ARTICLE OR SECTION IS UNDER CONSTRUCTION! | |

Looting is where pirates plunder items from Enemy or Enemy Ships. This is a guide on how to loot and how to get the best Loot. I call myself the Loot King because I'm a very good looter. I got my first famed when I was level 8; a Grand Blunderbuss, but sold it for gold. I have lots of loot clothing too. Also, I have other pirates with tons of famed and loot clothing. Here are spots that are key for looting.
Table of Contents
Gold Mine
More Will be Added Soon. Please Do Not Edit
Ad blocker interference detected!
Wikia is a free-to-use site that makes money from advertising. We have a modified experience for viewers using ad blockers

Wikia is not accessible if you've made further modifications. Remove the custom ad blocker rule(s) and the page will load as expected.