Lost Sword of El Patron
Comments

171
2,584pages on
this wiki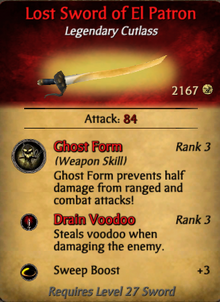 The Lost Sword of El Patron is the very same weapon used by El Patron himself. Following his death, his sword was presumed lost forever. However, it was rediscovered among the other weapons in El Patron's collection, and the blade seems to be made of gold.
This Legendary Cutlass is extremely powerful. It gives its lucky wielder the ability to change into a ghost-like form for 12 seconds, which prevents half damage from ranged and combat attacks.
History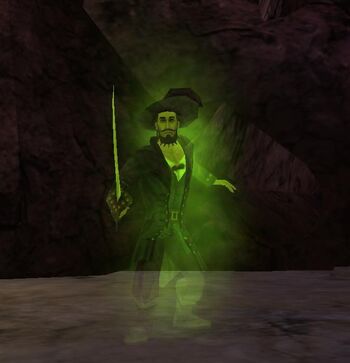 The name "El Patron" appeared with the Treasure Fleet update. It said in a notice for the Fleets that the EITC were planning to escape with his Lost Weapons.
With the release of the Loot and Inventory system, the PotCo team talked of the weapon being out there - "According to legend, El Patron cursed the sword with his dying breath. Now his spirit haunts the blade and its user. When the user unsheaths the sword, they travel as a phantom wherever they go."
Game Notes
Until March 29, 2013 this sword had the highest resale value in game. However, this has been replaced by the Heart of Padres del Fuego , with a resale value of 5,630 gold.
It is currently one of only nine items of the Legendary Class, and was the first of these to be released.
This is the only known weapon in the game which has Ghost Form.