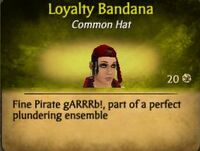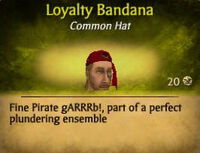 The Loyalty Bandana was free for unlimited access members from November 27, 2008 to December 7, 2008. It was available at any of the tailors on any the main islands.
Game Notes
Before the expansion of El Patron's weapons, this hat was known as the "Gold Skull Bandana." It is somewhat rare for players to still have this bandana in their inventories.
During the testing period of El Patron's weapons, this was also a common loot drop.
The Loyalty Bandana was available for a limited time in The Legend of Pirates Online during the semi-open Beta stage where players could obtain the item by using the redeem code "loyalty."
Ad blocker interference detected!
Wikia is a free-to-use site that makes money from advertising. We have a modified experience for viewers using ad blockers

Wikia is not accessible if you've made further modifications. Remove the custom ad blocker rule(s) and the page will load as expected.