Home
Talk

46
2,770pages on
this wiki

Ahoy! This be your information resource for Pirates of the Caribbean: Isles of War, Pirates of the Caribbean: Master of the Seas and Pirates of the Caribbean Online,
three online games based on
Walt Disney's Pirates of the Caribbean films, rides, and characters.
Anyone can edit any page here, and we encourage you to join us! If you find something that can be improved, either in content, grammar or formatting, feel free to fix it, just please make sure it follows our Policies. If you have any questions about the wiki or helping out, you can ask one of our Administrators.

Please be sure to read and abide by our community and editing Policy to ensure a peaceful wiki environment for all users and viewers.
Ship Classes: Light Sloop, Light Galleon, Light Frigate, Light Brig, Sloop, Galleon, Frigate, Brig, War Sloop, War Galleon, War Frigate, War Brig, Ship of the Line, Carrack, Fishing Boat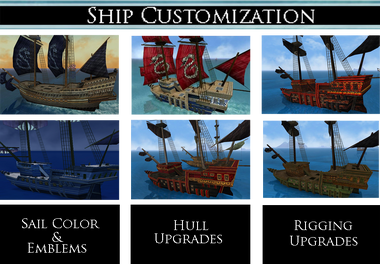 Equipment
Weapon Galleries

News Blog
Archive
Ahoy my fellow wikia users! GOG.com is a company that focuses on bringing back old games that are no longer available. They have a "wishlist" program which allows users to suggest games they want to …

Read more >

As of September 2nd, 2014, the adventurous and extrordinary online experience Pirates of the Caribbean: Isles of War will be shutdown by playdom forever and eternity.

https://apps.facebook.com/islesof…

Read more >

Future Pirates Online Rewritten Updates will not be posted on this wikia. If you wish to keep up with all the changes going on in the future game, you will need to visit the Pirates Online Rewritten …

Read more >
Revive Pirates of the Caribbean Online was an effort by numerous dedicated players to contact various Disney employs and present them with the player concerns regarding the issues of the game. The petition, entitled Revive POTCO officially started on July 29, 2012 and collected more than 3,300 signatures by its end on September 19, 2013.
Over the year the petition was active, it hosted two major in-game events to build support for the cause. Those events were the Revive POTCO Blockade and Land Ho! An Island for An Email.
Did You Know?
.... that pirates have been worrying about an Evil Curse of Doom after they got one of El Patron's Cursed Blades which can be taken after defeating El Patron?
....El Patron summons three Crew Ghosts at when he is nearly defeated?
....the Foulberto Smasho boss only gives out throwing knives in loot drops?
What was your favorite activity in Pirates Online?
Last Poll's Question: Which Legendary weapon is your favorite?
Winner of Last Poll: Thunderspine Sword with 70 out of 234 votes.
Pirates of the Caribbean Online Wiki is not associated in any official way with the Walt Disney Company, its subsidiary the Walt Disney Interactive Media Group, or any additional subsidiaries or affiliates.
The characters as well as "Pirates of the Caribbean" are TM and © (copyright) Walt Disney Company, Jerry Bruckheimer Films, and their related entities.