Ahoy! This be your information resource for Pirates of the Caribbean Online & The Legend of Pirates Online, a former game and its recreation. Both are based on Walt Disney's Pirates of the Caribbean films, rides, and characters.
Anyone can edit any page here, and we encourage you to join us! If you find something that can be improved, either in content, grammar or formatting, feel free to fix it! Just please make sure it follows our Policies. If you have any questions about the wiki or helping out, you can ask one of our Administrators.

News Blog
Archive
Posted by ???

July 9, 2018, 6:30 p.m.




My hands tremble as I read the third and final letter, the faded ink on yellow paper not hindering my efforts to learn its secrets:

To my dearest love,

The madness g…

Read more >

Posted by The Crew

July 8, 2018, 8:30 p.m.




Ahoy, mates!

We're back again this month with another update for you all! This one is quite a doozy, we think you'll like it! It's chock full of new content an…

Read more >

Posted by Edward Graves

July 5, 2018, 10 p.m.




Gather 'round mates, gather 'round! I has excitin' news to tell ye!

Now, ye know the unholy forces o' Jolly Roger be doin' thar foul work across these seas,…

Read more >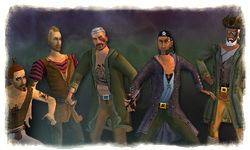 Guilds - Traveling the Caribbean alone can be daunting. When pirates work together, they can be very formidable. Any pirate can form a guild, become a Guildmaster and recruit others to join them in a share of the danger and the reward.
Pirates Online Wiki is not associated in any official way with the Walt Disney Company; its subsidiary, Disney Interactive; or any additional subsidiaries or affiliates.
The characters as well as "Pirates of the Caribbean" are TM and © (copyright) The Walt Disney Company, Jerry Bruckheimer Films, and their related entities.