Ahoy! This be your information resource for Pirates of the Caribbean Online & The Legend of Pirates Online, a former game and its recreation. Both are based on Walt Disney's Pirates of the Caribbean films, rides, and characters.
Anyone can edit any page here, and we encourage you to join us! If you find something that can be improved, either in content, grammar or formatting, feel free to fix it! Just please make sure it follows our Policies. If you have any questions about the wiki or helping out, you can ask one of our Administrators.

News Blog
Archive
Posted by TLOPO Crew

June 21, 2018, 9 p.m.




To the TLOPO Mac Community and Apple, Inc:

We are writing this letter-style blog post in regard to the recent announcements made by Apple, Inc at the Worldwide…

Read more >

Posted by Jesse Tidus

June 18, 2018, 5:30 p.m.




Ahoy, little ladies and gents. Jesse Tidus at your service. Quite hope you didn't forget about me, love. Been off sailing the seas, charming the masses wi…

Read more >

Posted by Edward Graves

June 17, 2018, midnight




So, ye want to know what I know, aye? It ain't much, I kin tell ye that.

All I knows is that Jack Sparrow be looking fer his father, who is nowhere t' be …

Read more >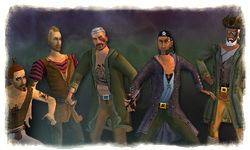 Guilds - Traveling the Caribbean alone can be daunting. When pirates work together, they can be very formidable. Any pirate can form a guild, become a Guildmaster and recruit others to join them in a share of the danger and the reward.
Did You Know?
.... that POTCO once had more than 3.7 million accounts on it?
.... that the Kraken was planned for release?
.... that Jolly Roger's own island was planned for release, along with several Aztec-themed items?
Pirates Online Wiki is not associated in any official way with the Walt Disney Company; its subsidiary, Disney Interactive; or any additional subsidiaries or affiliates.
The characters as well as "Pirates of the Caribbean" are TM and © (copyright) The Walt Disney Company, Jerry Bruckheimer Films, and their related entities.