Ahoy! This be your information resource for Pirates of the Caribbean Online & The Legend of Pirates Online, a former game and its recreation. Both are based on Walt Disney's Pirates of the Caribbean films, rides, and characters.
Anyone can edit any page here, and we encourage you to join us! If you find something that can be improved, either in content, grammar or formatting, feel free to fix it! Just please make sure it follows our Policies. If you have any questions about the wiki or helping out, you can ask one of our Administrators.

News Blog
Archive
Posted by Davy Doubloon

Dec. 1, 2018, 6:30 p.m.




Ahoy, all ye scurvy pirates an ne'er do-wells! The festive season be quickly approachin' and me an' my fellow peddlers have some fine clothes perfect for…

Read more >

Posted by Joan Tidewalker

Nov. 29, 2018, 5 p.m.




Listen close t' me, pirates. Y' know already that the seal on the Hollowed Woods was broken, and by my reckoning it will be several more weeks before it …

Read more >

Posted by Keepers of the Code

Nov. 21, 2018, 3 p.m.




It be that time of the year again!  Not too many weeks ago were we, the Keepers, drawing swords with the rest of ye pirates on the beaches of Tortuga…

Read more >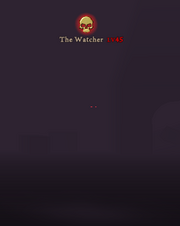 The Watcher is a mysterious and powerfulghost boss who remains in her hovel, deep in the Hollowed Woods on Port Royal. Only her glowing red eyes can be seen in the darkness.
Pirates Online Wiki is not associated in any official way with the Walt Disney Company; its subsidiary, Disney Interactive; or any additional subsidiaries or affiliates.
The characters as well as "Pirates of the Caribbean" are TM and © (copyright) The Walt Disney Company, Jerry Bruckheimer Films, and their related entities.