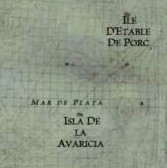 The Mar De Plata (Spanish for Silver Sea) is stretch of ocean between the two privateer islands of Isla De La Avaricia and Ile D'Etable De Porc. It's contains numerous small rocky islands which Ship PvP combat ships use for cover. Though it is rare, a single extremely tough ship such as a Juggernaut or Death Omen can be seen here.
Ad blocker interference detected!
Wikia is a free-to-use site that makes money from advertising. We have a modified experience for viewers using ad blockers

Wikia is not accessible if you've made further modifications. Remove the custom ad blocker rule(s) and the page will load as expected.