The Marceline GMs Make Merry Weapon Giveaway took place in December 2012, on the weekend of the 14th. It is very similar to the Haunted Hunt For Ghostly Gifts and the Brethren Feast Weapon Giveaway. The Game Masters could be found on Padres Del Fuego, Port Royal, Cuba, and Tortuga.
Note: For all basic access members, the Game Masters also gave out crude weapons that can be found in loot, meaning basic members got crude and famed weapons.
Weapons Given Out
All the weapons given out at the event can be looted from enemies throughout the Caribbean.
Game Masters that Appeared in the Event
Screenshots of the Event
News Posts About the Giveaway on the Grog Blog
December 12th - GMs Give Gifts This Weekend!
This weekend, December 14 – 16, the Marceline Guild GMs return to help make yer Winter Festival merry!
GM Captain Xavier Hench and his Guildmates will be gifting even more fantastically Famed items to good l'il Pirate lads and lasses they happen to meet on the main islands.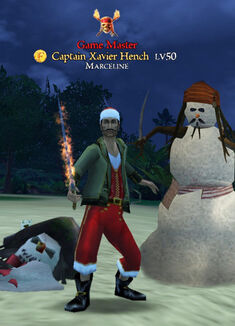 The jolly GMs' gift bags will be stuffed with hard-to-find weapons like the beautiful
Bejeweled Sabre
, the blazing
Bloodfire Broadsword
, the
Divine Cutlass
, the
Sacred Pistol
, and the
Grand Blunderbuss
.
Basic Pirates, be on the lookout too! The Marceline GMs have Crude weapons that are found only in loot drops for you to equip also.
WHAT: Marceline GMs Make Merry
WHERE: Keep lookout on Port Royal, Tortuga, Cuba & Padres del Fuego
WHEN: Friday, Dec. 14: 12 – 1 pm (PST)
Saturday, Dec. 15: 12 – 1 pm (PST)
Sunday, Dec. 16: 3 – 4 pm (PST)
A happy Winter Festival to ye!
Ad blocker interference detected!
Wikia is a free-to-use site that makes money from advertising. We have a modified experience for viewers using ad blockers

Wikia is not accessible if you've made further modifications. Remove the custom ad blocker rule(s) and the page will load as expected.