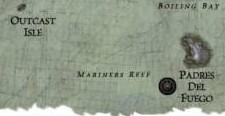 Mariner's Reef is part of the Caribbean stretching from Padres Del Fuego to Outcast Isle. This southern most part of the sea often sees a large number of dangerous craft on patrol, including the Royal Navy Colossus flagships.

Game Notes:
Juggernauts are sometimes found in these waters or nearby in Uncharted Waters.
Ad blocker interference detected!
Wikia is a free-to-use site that makes money from advertising. We have a modified experience for viewers using ad blockers

Wikia is not accessible if you've made further modifications. Remove the custom ad blocker rule(s) and the page will load as expected.