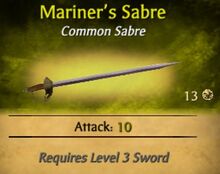 A Mariner's Sabre is a basic, common weapon. It is the weakest sabre in the game.This sabre has no special abilities. Useful only for beginning pirates and very similar to the Mariner's Cutlass, but you must have Unlimited Access to use this sabre. This sabre has the weakest attack of all Common Sabre's in the game.
Attack Power: 10
Abilities: None
Resale Value: 13 Gold
Cost: N/A Can only be found in Loot
Ad blocker interference detected!
Wikia is a free-to-use site that makes money from advertising. We have a modified experience for viewers using ad blockers

Wikia is not accessible if you've made further modifications. Remove the custom ad blocker rule(s) and the page will load as expected.