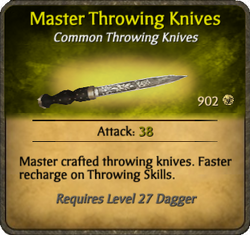 Master Throwing Knives are common throwing knives that have a decent attack power but no abilities. These are among the most expensive sets of knives you can buy, thus making it valueable when found. They can be purchased from Blacksmiths on Padres Del Fuego or found in loot drops from Foulberto Smasho. This dagger is identical to Assassin's Throwing Knives and the legendary Silver Freeze but they do not have the same skills.
Attack Power: 38
Abilities: None
Resale Value: 902 Gold
Game Note:
Even though the info card claims: "Faster recharge on Throwing Skills" there is no change to the cooldowns.
Ad blocker interference detected!
Wikia is a free-to-use site that makes money from advertising. We have a modified experience for viewers using ad blockers

Wikia is not accessible if you've made further modifications. Remove the custom ad blocker rule(s) and the page will load as expected.