'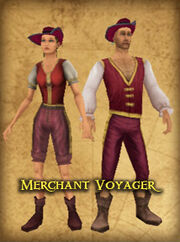 Merchant Voyager is a matching outfit offered for purchase by the Peddlers on Padres Del Fuego, Cuba, Port Royal, and Tortuga. Peddlers offer clothing that is only available for a short time. Because of this condition, it is a good idea to buy these outfits as soon as possible. In 2011, this set was referred to as Town Mayor's Outfit, which is the same name as another set.
Complete Outfit (Female): 2,900 Gold
Complete Outfit (Male): 3,900 Gold
In-Stock Dates (POTCO): March 2011, May 2012, September 6th 2013
In-Stock Dates (TLOPO): None
Female
Male
Ad blocker interference detected!
Wikia is a free-to-use site that makes money from advertising. We have a modified experience for viewers using ad blockers

Wikia is not accessible if you've made further modifications. Remove the custom ad blocker rule(s) and the page will load as expected.