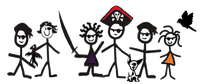 This page is a guide: Guides are essays that cover a specific topic in detail, in order to aid players to better grasp the topic. Guides may help you gain a better understanding of the game, but they are often written by a single editor, and the wiki offers no guarantee of their validity. Guides can be useful, but keep in mind that they may have a subjective point of view, or describe a specific approach to a subject which may not be the only solution.
To view all the guides on the wiki, please visit Category:Guides.

Ahoy mates! Looking for some tips to get that much wanted legendary weapon or bright? Well you've came to a good place!
First off, I'd like to say that loot is all about luck. No special trick will get you better loot. I've found that the Treasure Sense doesn't help, but if you're a firm believer of it, then keep using it. :)
Good Places to Loot:
I've found that the best places to loot are:
- Ravens Cove (South Idol)
- Tormenta (Gold room, Thralls, and Shipwreck are all good places!)
- Dark Hart
- Tomas Blanco
If you're looking for legendary cursed, I'd suggest heading to Tormenta or Ravens Cove. If you just want a regular legendary like the Silver Freeze or El Patron's, then head to Foulberto Smasho, Dark Hart, or Tomas Blanco. Looting a legendary cursed takes a lot of time and a lot of patience. I've only found 2 Legendary Cursed in my playing time and believe me, it takes FOREVER!?
If you just want a famed, then I'd suggest any of the places listed above. Famed cursed are more likely to show up on Ravens Cove and Tormenta. Famed can be found anywhere, even sailing. Most weapons can be found in multiple places.
Now, if you want brights, it all depends on what you want. If you want rarer brights like the Dark Black Jacket, you head to Tormenta, Ravens Cove, or Blanco. If you just want some basic brights then go ahead and head to Dark Hart or where ever you want. Brights can basically show up anywhere!
Weapons
I'd suggest looting with a Blunderbuss or a sword. I've had great luck with my Blunderbuss and I think it's a great looting weapon. Some people say the weapon doesn't matter, but I think that my luckiest weapon is Blunderbuss using Steel or Venom shot.
Servers
I've found that any server can give you great loot. Whether it's Barano, Bequermo, Vachires, Abassa, etc, you'll basically get the same loot. First, you should pick a server to loot on. Remember, patience is key! Loot for about 20-30 min. If you don't get any skulls or chests, then switch servers and repeat the process. It's always a good idea to keep bouncing around because loot can be different on other servers!
Thanks for Viewing my Guide! GOOD LUCK LOOTING!
Mikey McNally (talk) 18:54, November 23, 2012 (UTC)Mikey McNally
Ad blocker interference detected!
Wikia is a free-to-use site that makes money from advertising. We have a modified experience for viewers using ad blockers

Wikia is not accessible if you've made further modifications. Remove the custom ad blocker rule(s) and the page will load as expected.