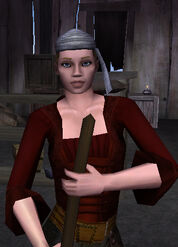 Millie Cutts is the bride of Hendry Cutts, who swears he doesn't remember their marriage after a rum binge. Millie is the sister of Scarlet, a local prostitute.
She resides in her cabin on Tortuga, near where Hendry cuts wood.
Game Play
Appeasing Millie, by collecting pearls for a necklace, is quest needed to allow Hendry to join the Black Pearl crew in the The Black Pearl story quests.
Game Note
Given the reasons she married her husband and her sister's career, Millie very well may be or have been a prostitute - as well given her house is near a building some players speculated as a house of sin.
Ad blocker interference detected!
Wikia is a free-to-use site that makes money from advertising. We have a modified experience for viewers using ad blockers

Wikia is not accessible if you've made further modifications. Remove the custom ad blocker rule(s) and the page will load as expected.