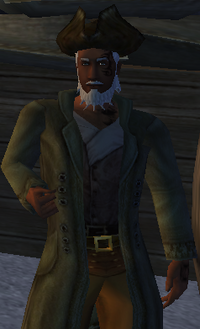 Mysteries of Rat's Nest
was a
Game Master
hosted event that provided backstory on the burning village of
Minertown
in the
Rat's Nest
jungle on
Tortuga
.
Official Release Post from Pirates Online:
"Captain Ezekiel Rott of the Casa de Muertos guild has forever plagued the Caribbean with his sinister presence. Pirates know that as a sworn servant of Jolly Roger's, Rott is usually behind many of the villainous acts that happen all over the islands. No one really knows much about Captain Rott's role in that shell of a town on Tortuga called, 'Rat's Nest'. But our very own Marceline guild is aware of Rott's shady dealings - the very dealings that led to the cursing of Rat's Nest! Find the Marceline guild and discover the dreadful secret Captain Ezekiel Rott has fought to keep quiet.
What: Learn all about Captain Ezekiel Rott's dark deeds and the mystery of Rat's Nest!
When: Saturday, May 8 from 2 p.m. - 3 p.m. and 5 p.m. - 6 p.m.
Sunday, May 9 from 2 p.m. - 3 p.m. and 5 p.m. - 6 p.m.
(All times are Pacific/ Los Angeles.)
Where: Find the Marceline guild on the docks of Tortuga."
Ad blocker interference detected!
Wikia is a free-to-use site that makes money from advertising. We have a modified experience for viewers using ad blockers

Wikia is not accessible if you've made further modifications. Remove the custom ad blocker rule(s) and the page will load as expected.