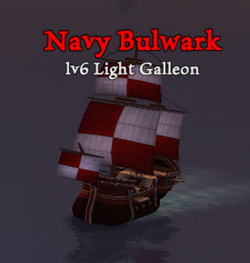 The
Bulwark
is a class of
Light Galleon
in service of the
Royal Navy
. This vessel carries two
deck guns
, using
round shot
, and three
broadside
cannons on each side using
chain shot
.
They appear at Levels 6-7, with 2000-2600 Hull Points, and are often found in the safer waters around Port Royal and Devil's Anvil.
Bulwark refers to the side of a ship above the upper deck or a gun platform.
Game Note
This ship used to be a Flagship that sailed near Devil's Anvil, but it was taken out.
Ad blocker interference detected!
Wikia is a free-to-use site that makes money from advertising. We have a modified experience for viewers using ad blockers

Wikia is not accessible if you've made further modifications. Remove the custom ad blocker rule(s) and the page will load as expected.