Pirates of the Caribbean Online is now closed.
This page will now serve as an archive for the content that was in POTCO, and a record of what is/will be in TLOPO.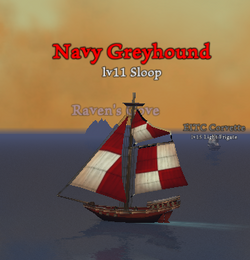 The
Greyhound
is a medium-sized
Sloop
in the service of the
Royal Navy
. Like most Sloops, it is fairly fast and manueverable mounting three 
broadside
cannons and two deck cannons on each side. It appears at
Levels
11-16 and usually spawns near Driftwood Island, Cuba and Port Royal.
Ad blocker interference detected!
Wikia is a free-to-use site that makes money from advertising. We have a modified experience for viewers using ad blockers

Wikia is not accessible if you've made further modifications. Remove the custom ad blocker rule(s) and the page will load as expected.