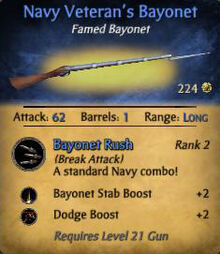 A Navy Veteran's Bayonet is a very well-crafted Famed Bayonet that grants the user the Bayonet Rush combo. This weapon also provides boosts to the wielder's Bayonet Stab and Dodge attack skill, although you technically cannot upgrade Bayonet Stab manually. This Bayonet has the weakest attack of any Famed Musket in the game.

Weapon Group: Navy Bayonet Group
Ad blocker interference detected!
Wikia is a free-to-use site that makes money from advertising. We have a modified experience for viewers using ad blockers

Wikia is not accessible if you've made further modifications. Remove the custom ad blocker rule(s) and the page will load as expected.