Note: This article refers to content from a seasonal event, which usually reoccurs once every year.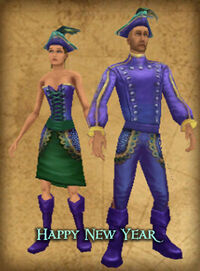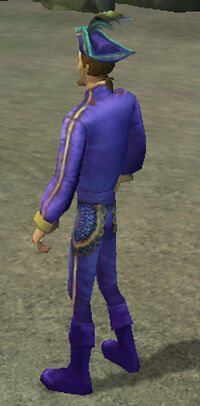 The New Year's Day Outfit, also known as Peacock is a matching outfit offered for purchase by the Peddlers on the main islands Padres Del Fuego, Cuba, Port Royal, and Tortuga. Peddlers offer clothing that will only be available for a limited time. Because of this, it is a good idea to buy the clothing as soon as possible. This outfit was released on live on December 30, 2011. This outfit was released to celebrate New Years and is the New Years Day Holiday outfit set for 2011.
Female
Male
Ad blocker interference detected!
Wikia is a free-to-use site that makes money from advertising. We have a modified experience for viewers using ad blockers

Wikia is not accessible if you've made further modifications. Remove the custom ad blocker rule(s) and the page will load as expected.