Orangutan Broadsword
Comments

4
2,584pages on
this wiki
THIS ARTICLE'S WEAPON OR CLOTHING CARD IS A FAKE PLACEHOLDER THAT IS USED AS A TEMPORARY IMAGE UNTIL THE ACTUAL WEAPON/CLOTHING ITEM IS FOUND.
THE STATS ON THE CARD ARE A PREDICTION AND MAY BE INCORRECT.
IF YOU FIND THE ITEM, PLEASE UPLOAD THE CLOTHING OR WEAPON CARD.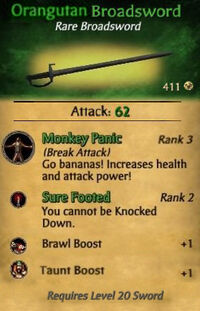 The Orangutan Broadsword is a powerful rare broadsword that gives its user a Monkey Panic ability, increasing the wielder's health and attack power, and grants a Sure Footed defense against being knocked down. This weapon also provides a small boost to the wielder's Brawl and Taunt skills.