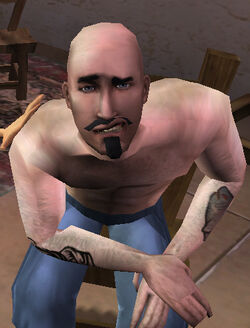 A Favor for P. Chipparr
is an easy quest with rewards of gold and notoriety. Talk to Peter Chipparr in
Solomon's Tattoo Parlor
to receive this quest.
Task
Reward
Visit Sam Seabones.
25 Notoriety Points
Visit Peter Chipparr.
25 Notoriety Points
Recover the name of the attacker from a navy soldier.
35 gold
25 Notoriety Points
Capture Officer Miller from a navy ship.
25 Notoriety Points
Maroon Officer Miller at any wild island
25 Notoriety Points
Visit Peter Chipparr.
35 gold
100 Notoriety Points
Ad blocker interference detected!
Wikia is a free-to-use site that makes money from advertising. We have a modified experience for viewers using ad blockers

Wikia is not accessible if you've made further modifications. Remove the custom ad blocker rule(s) and the page will load as expected.