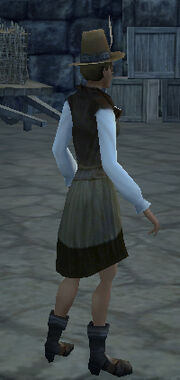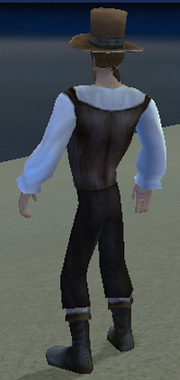 Pilgrim Explorer is an outfit offered for purchase by Peddlers on Padres Del Fuego, Cuba, Port Royal, and Tortuga. Peddlers offer clothing that will only be available for a limited time (usually 2 months). Items from this set can additionally be found in loot all-year-round. This set has a Thanksgiving theme and is usually sold in November to tie in with the Thanksgiving Holiday.
Complete Outfit (Female): 2,800 gold
Complete Outfit (Male): 4,200 gold
In-Stock Dates (POTCO): September 2011
In-Stock Dates (TLOPO): None
Female
Male
Multiple Color Variations for Pants
| | |
| --- | --- |
| | This item has been discontinued from Pirates Online. Some pirates may have this item in their inventory, but players without it will not be able to obtain it. |
Ad blocker interference detected!
Wikia is a free-to-use site that makes money from advertising. We have a modified experience for viewers using ad blockers

Wikia is not accessible if you've made further modifications. Remove the custom ad blocker rule(s) and the page will load as expected.