Pirates of the Caribbean: Isles of War
Comments

14
2,769pages on
this wiki
Pirates of the Caribbean: Isles of War is now closed.
This page will serve as an archive for the content that was in the game.
Parents! You can read more information on our Parent Page!

Pirates of the Caribbean Isles of War was a Facebook App that has been published by Disney and developed by their Facebook Game division, Playdom. The game is currently live and will be shutdown as of September 2nd, 2014. For the latest information, visit the official Facebook Page for Isles of War.
"Enter the world of Pirates of the Caribbean in the years before The Curse of the Black Pearl. The Golden Age of Piracy is in full swing, and danger awaits intrepid sailors on every horizon!"
"Engage in real-time naval combat on the high seas! Manage your fleet, battle enemies, and form alliances in the vast open world of the Caribbean!"
Features:
Build a Pirate Hideout and construct powerful fleets
Battle in a unique real-time strategy naval combat system
Explore the Caribbean for glory, honor, and profit
Enter a massive online world, where players will explore, ally, trade, and steal
Join Jack Sparrow in the original story line, conquer every pirate island, or sail the open seas with allies; the freedom of the high seas awaits!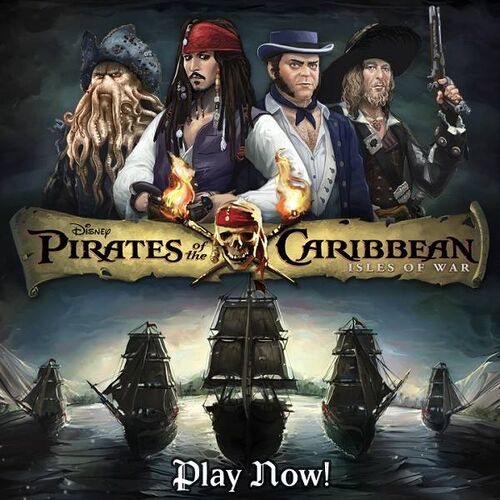 External Links: