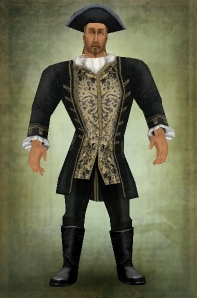 Private George Peabody
is a member of the
Black Guard
, part of the
East India Trading Company
and mercenary for hire to Lord
Cutler Beckett
. He is also a
GM
-played character, that has appeared at several role-playing events such as
The Black Guard Cometh
. Recently he appeared along with fellow
Private John Nickelby
for the Talk Like a Pirate Day event, where they asked the
Marceline
guild on how to talk like a pirate. It was hinted that they were actually sent by
Captain Ellison Shaw
to get info on pirates' recent activities. He has the
Knock Out
ability, and can dispose of pesky pirates.
Note
Private Peabody has an old body type. Players can no longer create a pirate with this body.
Skill Levels
Notoriety: Level 11
Cannon: Level 1
Sailing: Level 1
Sword: Level 4
Gun: Level 14
Ad blocker interference detected!
Wikia is a free-to-use site that makes money from advertising. We have a modified experience for viewers using ad blockers

Wikia is not accessible if you've made further modifications. Remove the custom ad blocker rule(s) and the page will load as expected.