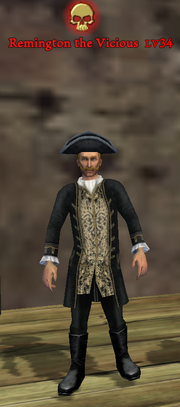 Remington the Vicious is one of the most deadly members of the EITC's Black Guard in the entire Caribbean, next to Neban the Silent. He can be found in the fortress on Kingshead, overseeing his minions from the top of a catwalk.
He is a very dangerous assassin for Lord Cutler Beckett and is very tough to defeat alone. He has extremely high health levels, which have been known to exceed 30,000 health points. He attacks pirates with his daggers and throws with lethal precision.
Remington appears at Level 28-35.
Pirates will need to kill Remington for the Vile Staff upgrade. He can be almost impossible to defeat alone, a trait he shares with Neban the Silent.
Notes
Remington the Vicious will always respawn in the same location at Kingshead.
Remington's health ranges from 25,500 (level 28) to 32,500 (level 35).
Ad blocker interference detected!
Wikia is a free-to-use site that makes money from advertising. We have a modified experience for viewers using ad blockers

Wikia is not accessible if you've made further modifications. Remove the custom ad blocker rule(s) and the page will load as expected.