Definition
Edit
"(N) - The system of ropes, chains, and tackle used to support and control the masts, sails, and yards of a sailing vessel."
In Pirates Online, Rigging is an option for Ship Customization. This option for customizing the ship's sails, masts, etc. will allow the pirate to add additional speed, maneuvering, or strength to their vessel.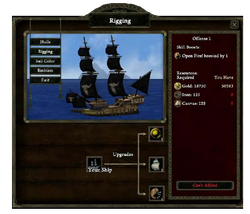 The ship's rigging may be upgraded to give boosts on sailing skills (Full Sail,Open Fire and Take Cover).
This feature will require gold, iron, steel, silk and canvas.

There are three types of rigging upgrades, each with two levels:
OffensiveEdit
Offense Upgrades

Open Fire Boost +1
Open Fire Boost +2
Ship Type
Gold
Iron
Canvas
Gold
Steel
Silk
Sloop
2,250
15
15
3,600
30
30
Galleon
4,500
30
30
7,200
60
60
Frigate
6,000
40
40
9,600
80
80
Brig
7,500
50
50
12,000
100
100
War Sloop
11,250
75
75
18,000
150
150
War Galleon
15,000
100
100
24,000
200
200
War Frigate
18,750
125
125
30,000
250
250
War Brig
22,500
150
150
36,000
300
300
DefensiveEdit
Defense Upgrades

Take Cover Boost +1
Take Cover Boost +2
Ship Type
Gold
Iron
Canvas
Gold
Steel
Silk
Sloop
2,250
15
15
3,600
30
30
Galleon
4,500
30
30
7,200
60
60
Frigate
6,000
40
40
9,600
80
80
Brig
7,500
50
50
12,000
100
100
War Sloop
11,250
75
75
18,000
150
150
War Galleon
15,000
100
100
24,000
200
200
War Frigate
18,750
125
125
30,000
250
250
War Brig
22,500
150
150
36,000
300
300
Speed Upgrades

Full Sail Boost +1
Full Sail Boost +2
Ship Type
Gold
Canvas
Gold
Canvas
Silk
Sloop
2,250
30
3,600
30
30
Galleon
4,500
60
7,200
60
60
Frigate
6,000
80
9,600
80
80
Brig
7,500
100
12,000
100
100
War Sloop
11,250
150
18,000
150
150
War Galleon
15,000
200
24,000
200
200
War Frigate
18,750
250
30,000
250
250
War Brig
22,500
300
36,000
300
300