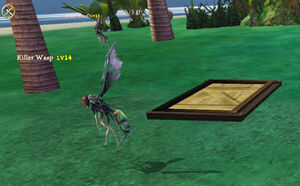 Rum Cellar is a small hidden room built on Rumrunner's Isle (also known as Black Sam's Spit). It was originally a cache for illegal bootleggers to stash their illicit cargo.
History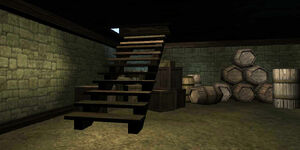 It turns out this place is somewhat famous. After being mutinied and marooned by Captain Barbossa, Jack Sparrow swam ashore here with only a pistol and single shot (to commit suicide as opposed to dying of starvation). However, finding the cellar, Jack made himself quickly at home.
Three days of beach combing and drinking later, the rumrunners returned to find him pilfering their stock - but he persuaded them into giving him a lift to civilization. Upon returning, he swore never to reveal their secret - choosing instead to 'enhance' the truth and tell folks he made it back by tying sea turtles to his feet. Since Jack's return, Bastien Craven makes his life on the island - however he does not seem to be the drinking type.
Game Play
Lower levels may not be able to get in because the door is constantly guarded by a wasp. There used to be a dig spot right by the door, but the Rum Cellar was moved a little farther from the dig spot. If you see a dig spot in the trees and grass, look around near that area for the rum cellar. There should be a tree separating the dig spot away from the rum cellar.
Ad blocker interference detected!
Wikia is a free-to-use site that makes money from advertising. We have a modified experience for viewers using ad blockers

Wikia is not accessible if you've made further modifications. Remove the custom ad blocker rule(s) and the page will load as expected.