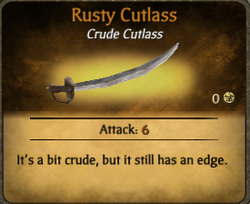 The Rusty Cutlass is a crude cutlass. It is obtained when a starting pirate encounters Will Turner on Rambleshack in the Set Sail Story Quest. The Blacksmiths on Port Royal or Tortuga give these leftover cutlasses away, free of purchase. This is the only weapon that can be purchased for free besides the Flintlock Pistol .
Ad blocker interference detected!
Wikia is a free-to-use site that makes money from advertising. We have a modified experience for viewers using ad blockers

Wikia is not accessible if you've made further modifications. Remove the custom ad blocker rule(s) and the page will load as expected.