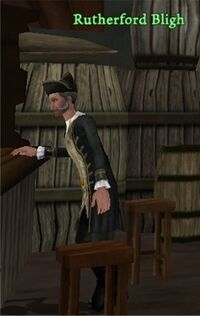 Rutherford Bligh used to reside in the Royal Anchor Tavern on Port Royal. He would hand out Daily Quests to pirates looking for work. He was removed and replaced with Captain Job. Not much is known about him except that he wears a EITC uniform.
Ad blocker interference detected!
Wikia is a free-to-use site that makes money from advertising. We have a modified experience for viewers using ad blockers

Wikia is not accessible if you've made further modifications. Remove the custom ad blocker rule(s) and the page will load as expected.