Pirates of the Caribbean Online is now closed.
This page will now serve as an archive for the content that was in POTCO, and a record of what is/will be in TLOPO.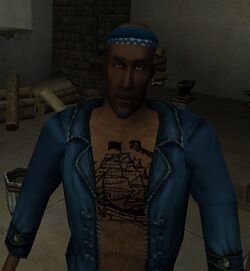 Sam Ropevane is a Trainer who can be found at the Wallace Blacksmith Shop on Port Royal. Like all trainers, he will retrain your skills for a fee.
Game Notes:
Each time you retrain a skill, the price will increase, up to 10,000 Gold!
Before Port Royal's Destruction, Sam had a Discontinued Body Type.
Ad blocker interference detected!
Wikia is a free-to-use site that makes money from advertising. We have a modified experience for viewers using ad blockers

Wikia is not accessible if you've made further modifications. Remove the custom ad blocker rule(s) and the page will load as expected.