Sandmen Search New Year's Challenge was a contest held to kick off the New Year. Players were challenged to locate and count the five different types of sandmen found throughout the Caribbean! The first 10 Pirates to send in the correct counts for ALL FIVE sandmen types won a special winter draught of Jack's Brew - a super reputation potion to kick yer New Year off with a bang!
Official Pirates Online Grog Blog News Posts
Announcement Post - January 4th
We hope all Pirates are enjoying a bountiful beginning to their New Year! The Peddlers make it simple to start yer new year in royal fashion with their January gear:
Royal Commodore
Now for yer New Year Challenge...
Find and tally up these 5 different types of sandmen around the islands:
Jack Sparrow sandman
Jolly Roger sandman
Headless Jolly Roger sandman
Barrel-body sandman
Starfish-buttons sandman
Send in your answer with exact counts for each sandman by replying to this Blog post using the Comments field below.
MARK THIS WELL: Make sure you include your Pirate's Account ID, Pirate Name, and Guild when you submit your entry below.
(Only the winning answers will be posted. Account IDs are NOT posted with your answers).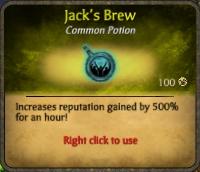 The first 10 Pirates to send us the correct counts for ALL FIVE sandmen win a special winter draught of Jack's Brew - a super reputation potion to kick yer New Year off with a bang!
Deadline to enter your correct tallies for all 5 sandmen to this Blog post is midnight (PST) this Sunday, January 6, 2013.
After Sunday, the Winter Festival and sandmen both drift away into the warm island winds...
Results Post - January 11th
Thanks to all Pirates who took a shot in our Sandmen Search New Year's challenge!
Many clever Pirates sent in their sandmen tallies, and we're proud to present the fastest Pirates who correctly counted up all the jolly men o' sand across the islands.
We received a few winning entries at the exact same time, so while there are ten top spots, we have 14 WINNERS total due to the ties!
1ST PLACE

TIE!


Wit Wolfblade


Ember Empire
Officer



Lee Firespinner
Ember Empire
Guild Master



2ND PLACE
Freebooter
Co. Grand Republic
Guild Master


3RD PLACE


Thomas Macwrecker
Emerald Regiment





4TH PLACE TIE!
Johnny Sea Slasher
Masters and Skulls
Officer



Joshua Coalskull
Elite Thievery Co.
Officer


5TH PLACE

TIE!




Firemonger
Dark Archive



Mello Man
Mac N Cheese
Officer



6TH PLACE
Pirate
Grande Finale


7TH PLACE


Jason
Blades of Insanity
Officer



8TH PLACE
Jack Truesilver
Ghost Pyrates
Guild Master



9TH PLACE
Emily Cannonmenace
Guild 1014289
Officer


10TH PLACE

TIE!




Anastasia
McRaging



Sage Scurvyrat
Wise Rats
Officer

Congratulations to ye all!
Winners, check your winning Pirate's E-mail this weekend for your Jack's Brew prize!
Please see your e-mail for instructions on how to redeem your prize in the Caribbean, and all details on this powerful potion. Enjoy Jack's special kick-start to yer New Year! Happy New Year!
Ad blocker interference detected!
Wikia is a free-to-use site that makes money from advertising. We have a modified experience for viewers using ad blockers

Wikia is not accessible if you've made further modifications. Remove the custom ad blocker rule(s) and the page will load as expected.