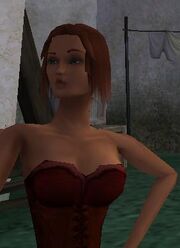 "
Jack, you promised to take us for a ride.
"
 

— Scarlet
Scarlet is a lady of the evening from Tortuga, who seems to enjoy and despise the company of a certain Captain Jack Sparrow.
She plies herself right outside the Faithful Bride and players will encounter her from the very beginning of the The Black Pearl Crew Story Quest.
Her sister Millie Cutts is married to Hendry Cutts, a former Black Pearl crewman. Rumor has it that Scarlet and Millie are only after a pearl necklace Hendry promised his bride during their very short time together. She can heal pirates for 5 gold.
Game Notes
Before the Tortuga Redesign in 2009, Scarlet had a Magenta Skirt, instead of a brown one.
The spelling of Scarlet's name in POTCO appears to be different from how it is from the POTC films, which is spelled with two t's.
External links
Ad blocker interference detected!
Wikia is a free-to-use site that makes money from advertising. We have a modified experience for viewers using ad blockers

Wikia is not accessible if you've made further modifications. Remove the custom ad blocker rule(s) and the page will load as expected.