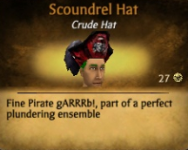 The Scoundrel Hat is a crude hat that was redeemable by using the code Scoundrel. You could obtain the code by talking to Rosetta Zimm, who has now disappeared. It is similar the to the Black Buccaneer Hat and the Rose Buccaneer Hat. The resale value is only 27 Gold pieces. Both unlimited and basic access members can wear this hat.
Game Notes:
Once you sell or trash it, there is no way of getting it back.
The Scoundrel Hat came back temporarily in 2012, a few months after being discontinued.
This hat is perfect for a Scoundrel Pirate looking for a stylish hat.
Ad blocker interference detected!
Wikia is a free-to-use site that makes money from advertising. We have a modified experience for viewers using ad blockers

Wikia is not accessible if you've made further modifications. Remove the custom ad blocker rule(s) and the page will load as expected.