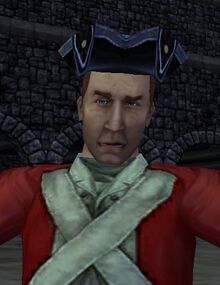 Sgt. Bingham is a Royal Navy soldier overseeing the prisoner, Gordon Greer at Fort Charles on Port Royal.
Sergeant Bingham is not so upright that he can't be bribed or even heal a pirate for a few gold coins.
A pirate will interact with him as part of The Black Pearl Crew quests.
After the Black Pearl quest when you are on board the Pearl, you used to be able to see him in the cut-scene.
Ad blocker interference detected!
Wikia is a free-to-use site that makes money from advertising. We have a modified experience for viewers using ad blockers

Wikia is not accessible if you've made further modifications. Remove the custom ad blocker rule(s) and the page will load as expected.