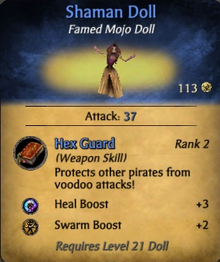 The Shaman Doll is a famed mojo doll. This mystic Voodoo doll gives the user the Hex Guard Weapon Skill, along with powerful boosts to Healing and Swarm. Unlike many other dolls,the Shaman Doll's main goal is fighting and healing. This Voodoo doll is made to resemble Tia Dalma.
Attack Power: 37
Resale Value: 113 Gold
Cost: Can only be found in Loot
Type of doll: Bane Doll, Mojo Doll, Spirit Doll
Weapon Group: Gypsy Doll Group
Ad blocker interference detected!
Wikia is a free-to-use site that makes money from advertising. We have a modified experience for viewers using ad blockers

Wikia is not accessible if you've made further modifications. Remove the custom ad blocker rule(s) and the page will load as expected.