Note: This article refers to content from a seasonal event, which usually reoccurs once every year.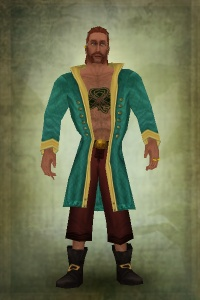 Shamus O'Malley is a native of Ireland and a crewman/friend of the Marceline Guild. This pirate loves his homeland so much that during the time of St. Patrick's Day, he plays a massive prank to turn the water of the Caribbean green! He accomplishes this by stealing a shipload of the East India Trading Company's green dye and dumping it overboard as he sails.
Also, on St. Patrick's Day, if a pirate should meet Shamus, he happily gives them a Redeem Code for 500 free gold! On March 16th 2013, Shamus and Old Sooty handed out to pirates a Rare golden goodie, Golden Knuckles, instead of 500 gold. 
Shamus appears to be wearing a Lucky Long Coat from the Emerald Duelist outfit.
Shamus is played by a GM and only appears once a year for this special event, though the waters remain green for a number of days.
Ad blocker interference detected!
Wikia is a free-to-use site that makes money from advertising. We have a modified experience for viewers using ad blockers

Wikia is not accessible if you've made further modifications. Remove the custom ad blocker rule(s) and the page will load as expected.