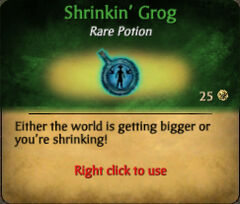 Shrinkin' Grog is a magical potion that makes your pirate shrink to a tiny size. This magic lasts for 5 minutes (300 seconds), but has no additional effects. This potion is the complete opposite to the Growin' Grog.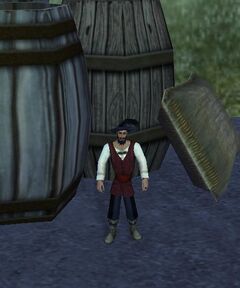 '
Shrinkin Grog is a level 10 potion that requires:
Note: If a pirate gets Knocked Out while under the effect of this potion, the effect will go away.
Note: If you try to change Clothes while you have The Shrinkin' Grog Potion in use, you will see yourself as full size.
Ad blocker interference detected!
Wikia is a free-to-use site that makes money from advertising. We have a modified experience for viewers using ad blockers

Wikia is not accessible if you've made further modifications. Remove the custom ad blocker rule(s) and the page will load as expected.