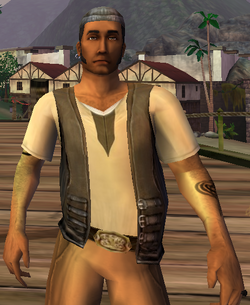 Sid Tackem is a poor pirate infatuated with the lovely Dedrie Dunnam and asks for help from the pirate as part of the Valentine's Day quests. He appears at Port Royal near Valentine's Day. Help him win over Dedrie Dunnam, and he will fix you a very fine shirt. He is located on the docks of Port Royal.
Ad blocker interference detected!
Wikia is a free-to-use site that makes money from advertising. We have a modified experience for viewers using ad blockers

Wikia is not accessible if you've made further modifications. Remove the custom ad blocker rule(s) and the page will load as expected.