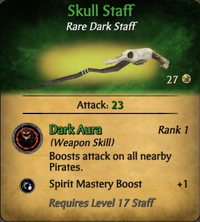 The Skull Staff is a rather powerful Rare Dark Voodoo Staff that gives the user the Dark Aura ability and boosts the Spirit Mastery skill. It may be obtained only by using the redeem code skull. It is the only staff with a boost to the Spirit Mastery skill.
Ad blocker interference detected!
Wikia is a free-to-use site that makes money from advertising. We have a modified experience for viewers using ad blockers

Wikia is not accessible if you've made further modifications. Remove the custom ad blocker rule(s) and the page will load as expected.