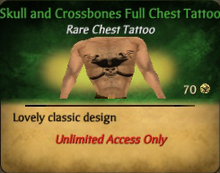 The Skull and Crossbones Chest Tattoo is a common Chest Tattoo that can be worn by both male and females. This tattoo is available at all the Tattoo Parlors. You can add this tattoo by dragging it to the Chest Slot in the Jewelry & Tattoos Tab in your Inventory (I).
Store Price: 800 gold.
Resale Price: 40 gold.
Game Note:
These tattoos can be commonly found on the members of the Casa de Muertos Guild.
There use to be an older variant of this tattoo for the old discontinued body types named Skull and Crossbones Full Chest Tattoo.
Ad blocker interference detected!
Wikia is a free-to-use site that makes money from advertising. We have a modified experience for viewers using ad blockers

Wikia is not accessible if you've made further modifications. Remove the custom ad blocker rule(s) and the page will load as expected.