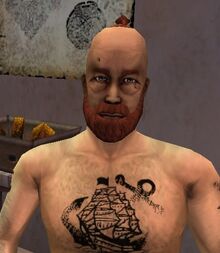 Solomon O'Dougal is a Tattoo Artist working out of Solomon's Tattoo Parlor on Port Royal.
In addition to the full variety of body art, he offers the pirate special Fortune Quests for rare tattoos.
As a young boy, Solomon had some family heirlooms and some paintings of his family stolen before him and his family by the EITC. He later got the picture of the ship tattooed onto his chest. At some point he visited the islands of Tortuga, Rumrunner's Isle, and Isla Cangrejos. He is reunited with the heirlooms and the paintings after pirates help recover them.
Jim Wavemonger, a man in the Royal Caverns on Port Royal, is his cousin.
Quests
Ad blocker interference detected!
Wikia is a free-to-use site that makes money from advertising. We have a modified experience for viewers using ad blockers

Wikia is not accessible if you've made further modifications. Remove the custom ad blocker rule(s) and the page will load as expected.