"Spanish Conquistador" redirects here. For the undead soldier, see: Spanish Undead Conquistador.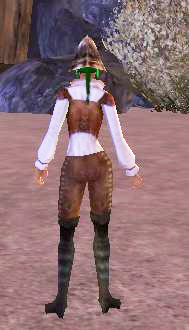 Spanish Conquistador is a matching outfit offered for purchase by the Peddlers on Padres Del Fuego, Cuba, Port Royal, and Tortuga. It is similar to the outfit El Patron wears, and more specifically, the hat and shirt. The Cabaset is similar to Steel Cabaset and Bronze Cabaset that you can purchase from a PvP Infamy Reward Merchant. Peddlers offer clothing that will only be available for a limited time, and so they are replaced the following month. However, it displays two months at a time, so you can purchase the old items in action again when a new outfit is released for another month if you forgot. The name "Guy Fawkes" on this outfit's shirt and blouse is most likely a reference to 16th century pirate, Guy Fawkes. The outfit was additionally leaked the morning of October 1st, and again in the evening on October 23rd.
Complete Outfit (female): 5,400 gold.
Complete Outfit (male): 5,000 gold.
In-Stock Dates (POTCO): May 2011, October 1st 2012, October 23rd 2012, August 24th 2013
In-Stock Dates (TLOPO): None
Female
Male
Multiple Color Variations for Pants
| | |
| --- | --- |
| | This item has been discontinued from Pirates Online. Some pirates may have this item in their inventory, but players without it will not be able to obtain it. |
Ad blocker interference detected!
Wikia is a free-to-use site that makes money from advertising. We have a modified experience for viewers using ad blockers

Wikia is not accessible if you've made further modifications. Remove the custom ad blocker rule(s) and the page will load as expected.