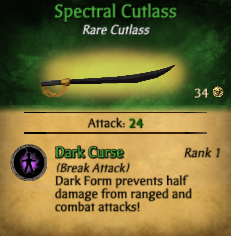 The Spectral Cutlass is a rare cutlass that can only be obtained by redeem code. This weapon offers a Dark Curse ability. This weapon is also followed by a black trail, even though it is not a cursed weapon.
Attack Power: 24
Abilities: Dark Curse 1
Level Required: N/A
Resale Value: 34 Gold
Redeem Code: Spectral

Game Notes:
The code for it was first announced on Pirates Online's Official Twitter before later being publicized on the Pirates Online Website.
The weapon was a gift from the ghosts of The Great Caribbean Ghost Hunt.
Once you trash or sell this weapon, you cannot get it back!
Ad blocker interference detected!
Wikia is a free-to-use site that makes money from advertising. We have a modified experience for viewers using ad blockers

Wikia is not accessible if you've made further modifications. Remove the custom ad blocker rule(s) and the page will load as expected.