Staff Enchant is a potion that gives a voodoo staff power. It is apparently used by voodoo practitioners to charge up their newly built or recently repaired staves to give them their magical energy. Pirates can however not utilize the potion, and it may require a ritual which is unknown to common folk.
This potion is also needed as part of the Raven's Cove Story Quest. Madam Zigana needs assistance to repair her staff, broken by Jolly Roger.

Staff Enchant I
The basic Staff Enchant only requires Potions level 8, 2 Crab Extract, 2 Tooth Dust and 1 Poison Extract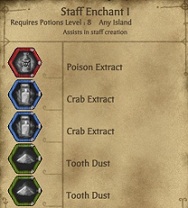 Staff Enchant II
This more powerful version is also much more difficult to concoct. It requires an Alligator Soul and Potions level 20.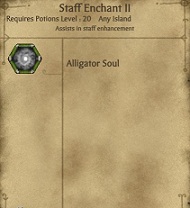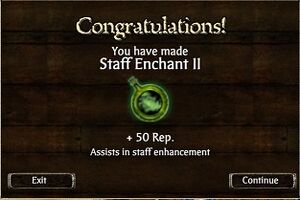 Ad blocker interference detected!
Wikia is a free-to-use site that makes money from advertising. We have a modified experience for viewers using ad blockers

Wikia is not accessible if you've made further modifications. Remove the custom ad blocker rule(s) and the page will load as expected.