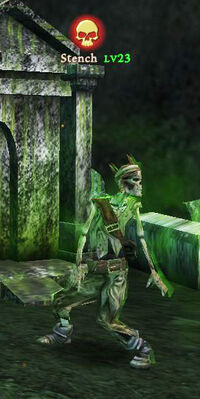 Stench is an Undead Slasher boss who attacks with daggers. He appears at Level 18-26 in El Sudoron and the Catacombs, and on Padres del Fuego fighting EITC. He has also been spotted in Cutthroat Jungle on Cutthroat Isle. He was also sighted in Las Pulgas numerous times, near General Darkhart.
Ad blocker interference detected!
Wikia is a free-to-use site that makes money from advertising. We have a modified experience for viewers using ad blockers

Wikia is not accessible if you've made further modifications. Remove the custom ad blocker rule(s) and the page will load as expected.