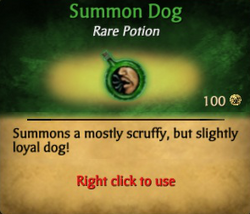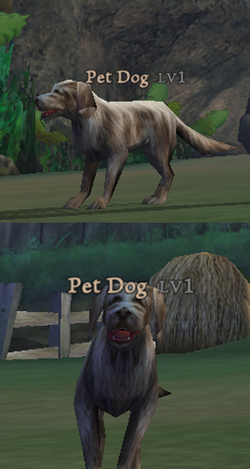 Summon Dog is a Redeemable Potion that can be obtained through the code spot. This potion summons a small dog that will follow you around for 5 minutes.
Resale Value: 100 Gold
Duration: 5 Minutes
Obtainability: Through the Redeem Code: spot
Game Notes:
If you use the /jig emote, your furry friend will sit down next to you as you dance!
This potion can't be made by brewing.
The dog, as well as the Chicken and Dire Wasp pets are level 1 and have 33 health. Only the wasp can be healed using Voodoo, but cannot be attacked.
There was a glitch that allowed the dog to stay in one place forever, but it would not move. 

Ad blocker interference detected!
Wikia is a free-to-use site that makes money from advertising. We have a modified experience for viewers using ad blockers

Wikia is not accessible if you've made further modifications. Remove the custom ad blocker rule(s) and the page will load as expected.