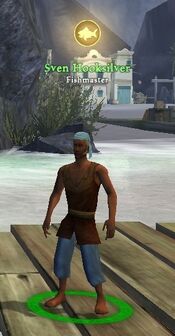 Sven Hooksilver
is the
Fishmaster
of
Padres Del Fuego
. He can be found right on the dock. He will gladly help
pirates
with their
Fishing
skill
, sell them equipment or even rent out a boat.

When you approach him, press Shift to get the Fishing Master menu. Choose from:
Catalog - Check your lures, buy more, etc.
Update Fishing Rod - Improve your fishing equipment.
Launch Fishing Boat - Take out the Fishing Dinghy to head for deeper water, it does cost 1,000 gold to use.
Legendary Fish Story - Hear a tale of a Legendary Fish, and maybe figure out how to catch one.
Ad blocker interference detected!
Wikia is a free-to-use site that makes money from advertising. We have a modified experience for viewers using ad blockers

Wikia is not accessible if you've made further modifications. Remove the custom ad blocker rule(s) and the page will load as expected.