Pirates of the Caribbean Online is now closed.
This page will now serve as an archive for the content that was in POTCO, and a record of what is/will be in TLOPO.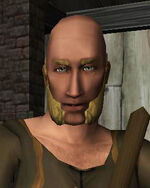 Sven Thorhammer
is a
Blacksmith
on
Padres Del Fuego
. The big Swede has his shop in the over-run town of
Las Pulgas
. He offers a very fine variety of
swords
,
daggers
, and accessories.
Weapons in Stock
Swords
Thor's selection is limited, but all of the weapons are well-crafted blades.
Daggers
Besides carrying the standard daggers for the pirate's dagger belt, Thor only carries one special dagger - but it is one of the finest small blades ever made.
Throwing Knives
Note
The name "Thorhammer" could possibly be a reference to Marvel superhero Thor, who wielded a hammer.
Ad blocker interference detected!
Wikia is a free-to-use site that makes money from advertising. We have a modified experience for viewers using ad blockers

Wikia is not accessible if you've made further modifications. Remove the custom ad blocker rule(s) and the page will load as expected.