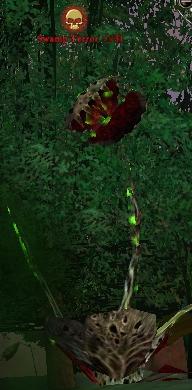 Swamp Terror is an Ancient Fly Trap Boss on Outcast Isle. This furious plant monster is often seen near the water on the sandy atoll. Seen at levels 30-35, this creature is by far the most powerful Fly Trap a pirate can ever encounter.
Game Note
This boss has changed MANY times. Originally, it was a Huge Alligator Boss, but it has also been a Giant Scorpion Boss, a Rancid Fly Trap Boss, and even a Stump Boss, before it was moved to an Ancient Fly Trap.
Ad blocker interference detected!
Wikia is a free-to-use site that makes money from advertising. We have a modified experience for viewers using ad blockers

Wikia is not accessible if you've made further modifications. Remove the custom ad blocker rule(s) and the page will load as expected.