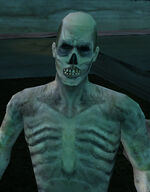 T-Bones the Bouncer is a Jumbee who has appeared in the Rat's Nest. He's guarding the door leading to the Hut where you can play a Mini Game called Undead Poker or Skeleton Poker.
You must get past him to be allowed inside to play. In order to do so you must wear a disguise as Sadie or Ben Clubheart. This is part of the Raven's Cove Story Quest. He seems to be the only Jumbee NPC. As you move farther away from him, he seems to appear as a human once more.
Game Note:
T-Bones is an NPC, not an enemy, so he can't be attacked.
Ad blocker interference detected!
Wikia is a free-to-use site that makes money from advertising. We have a modified experience for viewers using ad blockers

Wikia is not accessible if you've made further modifications. Remove the custom ad blocker rule(s) and the page will load as expected.